Your Ford Parts FAQs Answered in Plattsmouth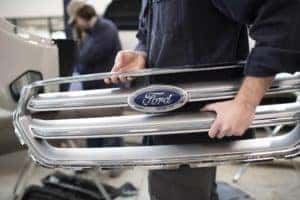 What makes Woodhouse Ford South the Ford parts dealer in Plattsmouth that you'll want to turn to when it's time for your next upgrade or repair? Not only do we share the affordable parts and accessories you need to keep your vehicle running right, but we also make it easy to get the information you need for proper car care and service. That's why we're sharing information on Ford parts today.
Ford Parts Dealer FAQ
The right parts and routine car service can make all the difference when it comes to keeping your Ford vehicle safe and comfortable on the open road. Here are some of our most common Ford parts dealer questions answered.
Why Are Ford Parts Important? OEM—or original equipment manufacturer—Ford parts are high-quality and long-lasting. They'll save you money and help to keep your vehicle running right.
What Are Common Ford Part Replacements? It's always important to check your owner's manual to know about upcoming car part replacements. Common part upgrades include tires, batteries, oil filters, brake pads, and more.
How Do I Know When It's Time to Replace My Ford Parts? Different parts wear down at different rates, but if you notice that your vehicle is starting to vibrate or run ineffectively, then it may be time to schedule a service appointment at Woodhouse Ford South.
Why Are Routine Part Replacements Essential? Regular Ford service and part upgrades will ensure your vehicle remains safe, runs efficiently, and maintains its value if you plan to sell down the line.
How Do I Order Parts at Woodhouse Ford South? It's easy to find the parts you need for your new Ford vehicle with Woodhouse Ford South. Fill out our online parts order form from the comfort of home today.
Get the parts you need for your Ford vehicle here at Woodhouse Ford South. Schedule an appointment with our service team in Omaha today.