Why Choose Woodhouse Ford South for an Oil Change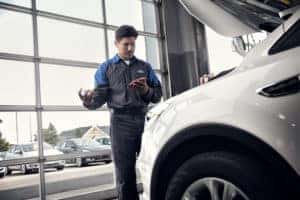 When you're looking for an oil change near me, you'll likely get a lot of results from body shops and corner garages here in the Omaha area. However, not all of these places can offer the Ford expertise we do at Woodhouse Ford South.
What You Need to Know About Engine Oil
Your vehicle's oil does a lot of behind-the-scenes work. It keeps your engine running smoothly and prevents friction from all the moving parts from causing too much heat.
That's why one of the best ways to prepare your vehicle your car for an oil change is to follow your vehicle's maintenance schedule. If it tells you to get an oil change at a specific mileage, pay attention. When you've reached that many miles, don't ignore the situation and avoid serious driving until you can bring your car in for an oil change.
If you notice the check engine light or oil change light, the best thing you can do is drive your car as little as possible until you bring it into our Ford service center.
Why Change Your Oil with Us
There is no shortage of engine oil options. And the wrong one can do some damage to your vehicle. Here at Woodhouse Ford South, we know the best oil to use for your exact make and model and have experience with every Ford on the market. Stop by today to talk to one of our service technicians.