Visit Our Ford Commercial Vehicle Center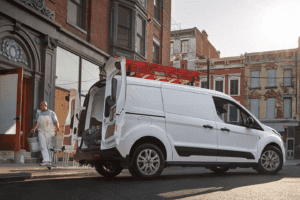 The Ford commercial vehicle center here at Woodhouse Ford South makes it easy to find the best new vehicles for your business. We carry a wide range of vans and transporters, so you can get the job done right every time. Come down to our Plattsmouth dealership to begin test-driving commercial vehicles today.
2022 Ford Commercial F-250 Super Duty at a Glance
The experts at Car and Driver Magazine say that the Ford F-250 has, "impressive capabilities," which makes it the perfect addition to your business vehicle lineup.
It starts at just $35,200 MSRP and comes with engine options like the 7.3L V8 engine and the 6.2L Power Stroke® V8 turbo diesel engine, which means up to 475 horsepower and 1,050 lb-ft of torque.
And all that power can help to move your business, with comfortable seating for up to six passengers, up to 78.5 cubic feet of cargo space, and towing up to 15,000 pounds.
2022 Ford Transit Connect at a Glance
Or maybe you need a little more cargo space for big gear, equipment, and deliveries. The 2022 Ford Transit Connect might be the right vehicle for you. It starts at $25,175 MSRP and comes in five unique model options, so you're sure to find the perfect Ford Transit Connect for whatever your business needs might be.
Check out engine options like the 2.0L 4-cylinder engine, which produces up to 162 horsepower and 144 lb-ft of torque. That means comfortable seating for up to seven passengers in the Passenger Wagon and towing up to 5,420 pounds.
And, of course, it's all about cargo capacity. The 2022 Ford Transit Connect comes with up to 145.8 cubic feet of cargo space for the next big job.
Find these great commercial vehicles and a whole lot more here at Woodhouse Ford South. Take your first test drive in Plattsmouth today.