Trade In and Trade Up at Woodhouse Ford South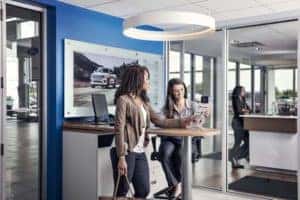 A vehicle trade-in is so much more than a way to purchase your next Ford vehicle. It's a tool and a resource for expanding the types of cars, trucks, and SUVs available to you, and for driving home in the cars you really want at the best prices for your budget. When you come down to Woodhouse Ford South, you'll be able to enjoy all the ways trading in can support your automotive interests.
How Can I Save When I Trade in My Car?
The best way to trade up during the vehicle trade-in process is to save money—and there are so many different ways to save when you trade in. Here are just a few:
Your Down Payment is Lower: Your trade-in vehicle's value will go toward your down payment, which means you won't have to worry about saving up. 
Your Monthly Payment and Interest Are Lower: The faster you pay off your vehicle, the less interest you pay on it. That means big savings in the long and short-term, and more vehicle options available to you today.
You Save on Sales Tax: Sales tax is one of the big costs of purchasing a new Ford Bronco or Ford F-150. You'll save when you trade in because the costs are only calculated after the trade-in vehicle's value has been deducted.
Your Current Loan is Forgiven: If you're waiting on the next great car until your current loan is paid off, you could be paying excess, unnecessary costs. Our dealership will assume your current loan when you trade, so you can get the next great car today.
It's easy to begin the trade-in process online or with our Plattsmouth car dealership in person. Schedule an appointment with our financing team to get started today.