Test-Drive a Ford Mustang Convertible Today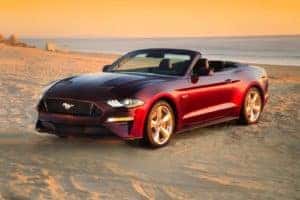 There's nothing quite like a convertible Ford Mustang when it comes to American muscle car cool. The Ford Mustang is a beloved classic for car enthusiasts for a reason, and when you're ready to begin testing out your new Ford Mustang, Woodhouse Ford South is the team that you can trust every step of the way.
What Should I Know About Buying a Convertible Ford Mustang?
There are many reasons to fall in love with the convertible Ford Mustang, and here at Woodhouse Ford South, we're sure to have the right Ford Mustang for all your driving needs. Here are a few things you'll want to keep in mind when it comes to picking out the perfect convertible Ford Mustang.
There Are Lots of Ways to Customize: You can begin customizing your vehicle even before you pick it up. Explore your many Ford Mustang options during the build period and get the most out of the car you love.
You Can Add on Later: If you want to customize your car further in the future, you'll find Ford parts and accessories right here at Woodhouse Ford South that make the process smooth and easy.
Consider Your Driving Style: With so many different Ford Mustang models to pick from, you'll want to consider what kind of driving you do most often before you pick which car you take home.
You're Joining a Legacy: The Ford Mustang is credited with kicking off the entire muscle car era in America and putting performance in the hands of the average driver. When you add a Ford Mustang to your garage, you'll be embracing an iconic history that shows no sign of slowing down.
The Ford Mustang Convertible is a vehicle best experienced firsthand. Visit Woodhouse Ford South to test it out for yourself today.