Test Drive a Ford Car in Plattsmouth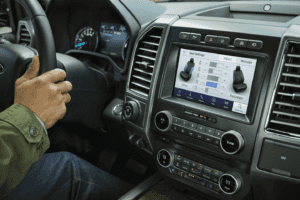 Don't waste time wondering how to test drive a car. Come on down to Woodhouse Ford South in Plattsmouth and our expert team will walk you through every step of the process. We believe finding the right car at the right price should be smooth and easy, and you can get started with the support of Woodhouse Ford South today.
How to Test Drive a Car
There are many great Ford cars, trucks, and SUVs available here at Woodhouse Ford South, but we're dedicated to finding the right fit ride for you. And it all starts with the first test drive. Here are a few things to do and consider when testing out your new Ford:
Take a Look Around: You always want to begin by exploring the exterior of the car, to get a sense of the size and shape before you get behind the wheel. It's also important to check design and make sure you like how it looks.
Test the Comfort: Settle into the driver's seat and check your mirrors, your visibility, and your access to controls and dials. It's essential that you feel comfortable and at ease when driving your new Ford vehicle, so practice some of your daily routines and habits, like changing the radio station or checking the back seats.
Inspect the Storage and Cargo Space: You want to make sure a car or SUV has enough space for all of your camping, adventuring, or exploring needs, so always look at truck and backseat cargo space.
Check Steering, Stopping, and Starting: Head out on the open road and see how responsive and capable the car is. Check out how it steers, brakes, and accelerates to see if it's the right vehicle for your needs.
Take your first test drive in a new Ford vehicle at Woodhouse Ford South today.