Signs It's Time for an Oil Change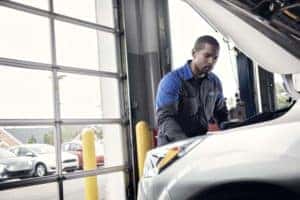 Are you wondering, 'where can I go for an oil change near me?" Let Woodhouse Ford South help you out! Not only do we want to be there for you and your vehicle, so you can get safe and reliable service every time, but we also want to provide you with the knowledge and information you need to recognize when your car needs regular care, like a new oil change.
Signs My Car Needs an Oil Change
We rely on oil to keep our car running right, and regular oil changes are a part of that. Oil helps to lubricate the engine and keep parts from scraping or damaging each other and it also serves to cool the engine down, so your vehicle doesn't overheat.
Oil is also helpful for collecting the dirt and debris from the road, so it doesn't damage the engine. Because of this, the oil needs to be changed regularly. Here are a few indications that it's time to bring your new Ford Bronco Sport or Ford Edge in for an oil change.
You Hear Knocking or Scraping: If your vehicle is low on oil, then you may hear the sounds of parts or systems scraping and rubbing against each other. When this happens, it's important to get new oil right away.
Your Car Vibrates: Vibration at rest is one of the key signs that the oil in your vehicle is low.
The Check Engine Light Comes on: There are many reasons the Check Engine light might come on, but oil change needs are the most common.
Your Vehicle Has a Lot of Exhaust: If you notice that your car is producing more exhaust or that it's darker and richer, that means you need to replace your oil with a fresh bottle.
You've Driven 3,000 Miles: You want to make a schedule to replace your oil at least every 3,000 miles.
It's easy to get your oil changed right here at our Ford service center. Make an appointment with our expert team today.