Schedule an Oil Change in Plattsmouth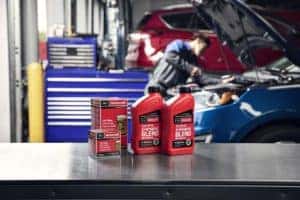 If you're wondering, "where can I go for an oil change near me?" then turn to the team here at Woodhouse Ford South. We're not just dedicated to helping you find the perfect new or pre-owned Ford vehicle for all your driving needs.
We also want to ensure it continues to run right for years to come, with Ford oil changes you can trust.
Signs Your Ford Vehicle Needs an Oil Change
There are many benefits to bringing your vehicle in for routine oil changes, like increased vehicle efficiency, responsiveness, and comfort. Here are a few signs that it's time for an oil change:
Your Vehicle Vibrates at Idle: If you notice your car is shaking or vibrating, that's a good indication that your oil levels are low, and you need a fill-up as soon as possible.
The Check Engine Light Comes On: There are many potential reasons your vehicle's check engine light might come on, but low or dirty oil is one of the most common.
Your Exhaust is Dirty: The oil in our vehicle captures dirt and debris from the road so it doesn't damage the engine. If you notice that your new Ford is producing thicker, darker, or more pungent exhaust, it means your oil is dirty and needs to be changed.
Your Fuel Efficiency Drops: Clean oil helps to keep our vehicles running as efficiently as possible, so if you notice an obvious drop in mileage, an oil change may be a simple fix.
For more information on oil changes and Ford service, make Woodhouse Ford South the Ford dealership you can trust. We make it easy to get the car care you and your vehicle deserve and you can schedule your next service appointment right here on our website today.