Protect Your Ford Brakes With the Help of Woodhouse Ford South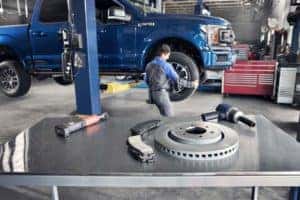 When you're on the hunt for brakes service in Omaha, turn to the trustworthy and reliable Ford service team at Woodhouse Ford South. We believe in protecting the cars we love so they can be used for many years to come. That's why our expert service team is providing all the information need to ensure your Ford brakes continue to stop right.
How Do I Protect My Ford Brakes?
There are a few simple steps you can take when driving to help protect your brakes, including some of the following:
Let Your Brakes Cool: In the same way your engine needs to cool down to run efficiently, it's important to let your brakes cool, as well. When brakes overheat, it can cause permanent damage, so always give them a chance to chill out.
Get Regular Vehicle Maintenance: There's nothing more important for the life or health of your brakes than regular brake inspections and upgrades. Visit the service center at Woodhouse Ford South for all your brake upgrade and repair needs.
Safe Following Distance: When you maintain too close a distance between you and the car in front of you, it can mean more regular and harsh braking. Keep a safe space between you and come to slower stops, which are gentler on your brakes.
Take it Slow: The way you drive plays a big role in the health and lifespan of your vehicle's brakes. When you drive at safe, regulation speeds, you'll get a longer and more reliable life out of your brakes.
When it's time for a new Ford car or SUV, Ford financing, or support for your Ford brakes, schedule an appointment with Woodhouse Ford South in Plattsmouth.