Keep Your Car Safe with Auto Parts in Plattsmouth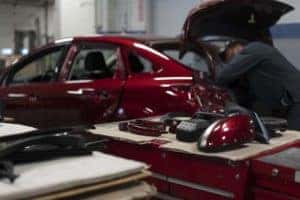 If you're on the search for auto parts in Plattsmouth, then Woodhouse Ford of South has you covered. In addition to routine car service and care, purchasing high-quality, long-lasting parts is the best way to keep your vehicle running right. That's why we carry the auto parts you can trust and why we're sharing useful information on caring for the parts in your Ford vehicle.
What Auto Parts Do I Need to Replace?
The auto parts in our Ford vehicles are designed to last, but the more you know about your car's parts and accessories, the easier it will be to get the care they need when the time comes. Here are some of the most commonly replaced auto parts:
Oil Filter: You'll want to get regular oil changes to keep your vehicle cool, well-lubricated, and clean, and that means the filter will need to be replaced on schedule, as well.
Hoses and Belts: Hoses and belts carry essential fluids and keep important systems running regularly, but the material wears down over time, especially in extreme environments. Our expert team will inspect your hoses and belts and replace them as necessary.
Brakes: Most brake pads will last 30,000-70,000 miles, depending on what kind of driving you do. If you have noticed squealing or grinding or if your stopping distance seems longer than usual, it's time for new brake pads.
Batteries: Your car battery will last three to five years, depending on the temperature where you store your vehicle and the type of driving you do. It's a good idea to schedule regular battery inspections after three years.
Tires: Not only will you want to change out your tires once they wear down, but you'll also want to swap tires for different seasons and temperatures. This will help you to maintain maximum driver control on every ride.
Learn more about Ford auto parts and find the best parts for your next service, upgrade, or repair here at Woodhouse Ford South in Plattsmouth.