Get Speedy Oil Change Service at Woodhouse Ford South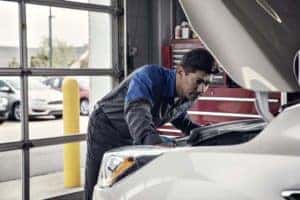 There's no better place to go for oil change service than Woodhouse Ford South. We believe in creating lifelong relationships with the drivers who find their vehicle at our Plattsmouth dealership, which is why we offer all the best Ford service and repairs, and why we make sure they're as quick and accessible as possible.
Why Are Oil Changes Important?
There are many benefits to getting regular oil changes, like the kind we offer here at Woodhouse Ford South. Here are a few of the most important:
They Keep Your Vehicle Safe: When your car is well maintained, it's more responsive on the road and helps to protect you and your family.
You'll Save Money: You'll have fewer costly repairs and replacements with regular oil changes.
Your Vehicle is More Efficient: A vehicle with fresh oil uses gas more effectively.
Your Vehicle Maintains Value: If you plan to sell your new Ford down the line, proper maintenance can ensure you get top dollar.
It Makes Every Ride Smooth: A simple oil change can ensure every ride is as smooth and comfortable as possible.
Why Visit Woodhouse Ford South for Oil Changes?
When you're ready to get the oil changes that you and your vehicle deserve, make Woodhouse Ford South the Plattsmouth auto dealers you visit first. Our Ford-trained professionals use reliable Ford parts for your oil changes and the other services your vehicle needs.
We offer a comfortable, well-equipped waiting room with Wi-Fi and provide shuttle service and easy online scheduling. We also offer specials and deals on cars, parts, and services, so you can get the oil changes that will keep your vehicle running right without breaking the bank.
Schedule your next speedy oil change at Woodhouse Ford South today.