Ford Gap Insurance is Explained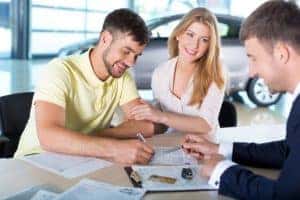 Are you wondering about your Ford gap insurance options? Woodhouse Ford South is here to make it easy to determine just what kind of coverage you need. We're here to help you on every step of the vehicle ownership process, from the first test drive to purchasing insurance and coverage for your vehicle.
Gap Insurance at a Glance
You might be wondering if you really need gap insurance. After all, car insurance is required to drive in every state, and it may feel like just another cost. We're here to share a look at gap insurance, so you can determine if it's the right fit for your needs.
As the name indicates, gap insurance covers the gap between your existing insurance coverage and the value of the vehicle if your car is stolen or totaled. This will help to protect you if you still owe a significant amount of money on your lease or loan.
When it comes to deciding if gap insurance is right for you, there are a few questions you'll want to ask. Do you own your vehicle outright? If you don't owe any money on your loan, then gap insurance isn't a necessary cost.
Is your current loan or lease more than the value of your vehicle? If your vehicle is declared a loss and the cost of the loan or lease is more than your insurance company will pay, then gap insurance can protect you.
For more information on gap insurance coverage, turn to the team at Woodhouse Ford South. We carry a wide inventory of vehicles, offer financing and service support, and we're here to answer your questions at every stage of the vehicle ownership process. Schedule your next financing appointment in Plattsmouth today.