Are Ford Fusion Hybrid Models Reliable?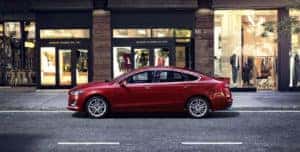 There are many benefits to purchasing a pre-owned vehicle, especially a pre-owned hybrid, but if you're worried about Ford Fusion Hybrid reliability, Woodhouse Ford South is here to answer your questions. We make it easy to find the right alternative energy vehicle at the right price, and you know you can trust these models for a long time to come.
Are Pre-Owned Hybrid Models Reliable?
Purchasing pre-owned has lots of advantages, like big savings and lower rates of depreciation. And that's all on top of the hybrid vehicle savings. Still, you may be wondering if these pre-owned hybrid models are as safe and reliable as brand-new cars.
The truth is, cars are built better than ever before, and with these few simple steps, you can keep you pre-owned hybrid Ford running right for a long time to come:
Check the Manual: Every vehicle will have its own service needs, especially hybrids. Hybrid vehicles can be a little more involved than internal combustion engine cars, so it's helpful to check out the manual and learn about your service schedule and care needs.
Make Sure Your Service Team is Qualified: Hybrid vehicles have more heavily interconnected components than internal combustion engine vehicles. When you schedule vehicle service, make sure the team knows how to work on hybrid cars, like we do at Woodhouse Ford South.
Use the Right Parts for the Job: High-quality parts may be a little more expensive, but they're worth the extra cost. This is especially true for hybrid vehicles. Consider purchasing OEM Ford parts for your pre-owned Ford hybrid model.
Get Regular Service: Whether you're driving hybrid, gas, or electric, your vehicle will appreciate regular service and care. In fact, there's no better way to guarantee reliability than with a good service history.
Find the perfect pre-owned hybrid model for your lifestyle and driving needs here at Woodhouse Ford South.