5 Questions to Ask When Shopping for Your Next Car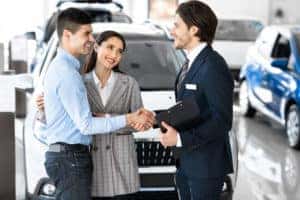 Whether you've purchased a car before or it's your first time, you may be wondering what kinds of questions you should be asking us while you shop. As your Plattsmouth car dealers, we want you to feel confident and comfortable. That's why we want to cover five questions you should ask your car dealer.
What is the Out-The-Door Price?
The sticker price you see on the car refers to the cost of the vehicle itself. However, anyone who's owned a car before also knows that there are additional costs. Additional charges often include the sales tax, registry costs, and a documentation fee.
So, when you're talking with one of our representatives about your next car, don't forget to factor in all your costs, not just the car's sticker price, to get the Out-The-Door price.
Ask How Many Miles the Car Has
It's not uncommon to shop for your car online these days. That means that many drivers don't get to inspect their potential next car in person right away. It's always smart to ask us how many miles the car has driven, as it may factor into your decision.
Find Out Where the Car Came from
A lot of drivers opt to go the used or pre-owned route. We want you to know as much about the vehicle as possible. So, we encourage you to find out where the car came from. Some drivers prefer trade-ins or certified pre-owned models, while others don't have a preference.
Can I Take an Extended Test Drive?
Sometimes, a half-hour with a car isn't enough to get a proper feel for it. Ask your dealers about our extended test drive options today!
What Are My Financing Options?
At the end of the day, it comes down to paying for the vehicle. Here at Woodhouse Ford South, we work with everyone to find the best financing for you. We work with several lenders to get you the best deal. So, before you sign, consider all your financing options.
Stop by today to get started on car shopping at Woodhouse Ford South!