The 2022 Ford F-150 Lightning at Woodhouse Ford South
It's incredible how far green car technology has come, and few models show the progression of electric vehicles quite like the 2022 Ford F-150 Lightning. It is now possible to get a rugged, capable pickup truck that doesn't require an ounce of gasoline to tackle tough towing jobs and off-road terrain. You have to visit Woodhouse Ford South to see it for yourself.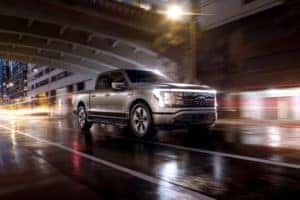 2022 Ford F-150 Lightning Details
You're buying a Ford truck because there's work to do and you can't afford to mess around. The 2022 Ford F-150 Lightning delivers the kinds of capabilities you're looking for, along with an impressive driving range and compatibility with thousands of public charging stations.
The 2022 Ford F-150 could have a range of up to 300 miles with an extended battery, or 230 miles with a standard one. The smaller battery pack will give this truck an output of 426 horsepower, while the larger battery pack ups the output to 563 horsepower! Torque output remains the same at 775 lb-ft for both setups.
Obviously, this makes it easier for this capable truck to handle some big towing jobs. It can tow up to 10,000 pounds when properly equipped. Add in its max payload of 2,000, and this all-electric truck is going to surprise you with how much it can transport.
We also love that the 4×4 drivetrain is standard, so you never have to worry about tough terrain getting in your way. Multiple driving modes allow this Ford truck to make the most of its power when towing or when traveling off-road.
2022 Ford F-150 Lightning Safety and Special Features
The 2022 Ford F-150 Lightning also comes equipped with plenty of useful in-car tech that can help you make the most out of the electric power at your disposal.
Ford Intelligent Range learns how much energy it uses in different conditions so that it can better estimate how much range you have left. We also love the FordPass app, which makes it easy to find charging stations.
The most interesting feature might be Ford Intelligent Backup Power. This can allow your truck to essentially act as a generator, powering a home for up to 10 days with proper rationing. Not bad for a green vehicle, right?
Buying a 2022 Ford F-150 Lightning
You're not going to see another vehicle like the 2022 Ford F-150 Lightning unless you visit our Ford dealership serving Bellevue, NE. We'll answer any questions that you have about this unique Ford truck and how electric vehicles work, and then we'll make it easy to take advantage of our latest Ford financing offers!